It's always worth paying a visit to our Gift Shop
Baking, produce and picnics
The preserves, teas, and coffees that we serve every day at Abbey Cottage can be purchased in our gift shop.  There's also locally produced organic honey, mustard, chutneys and oatcakes. Depending on availability we also sell baking fresh from our kitchen.  Why not ask us to make up a box of cakes to take home? Or a box of freshly made sandwiches or salads for your picnic? Bags of our mini-Sweetheart Shortbreads are always popular treats!
Gifts from Dumfries and Galloway
Looking for a holiday memento? Or, a locally-sourced gift for a special occasion? Do call in for a browse.
We've got a selection of crafts and gifts from around Dumfries and Galloway and Scotland, including stylish jewellery inspired by Sweetheart Abbey and its founder Lady Devorgilla.
*NEW* The Criffel Skyline Mug
This bone china mug captures the distinctive skyline of Criffel and the surrounding hills. It was designed and made for us in Scotland.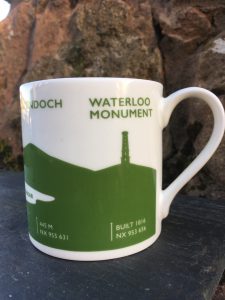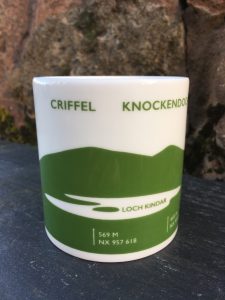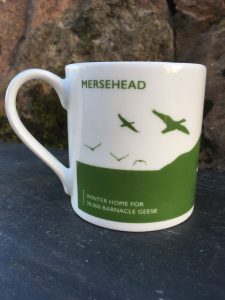 Artists in our gift shop
There are so many talented artists in Dumfries and Galloway and we always have a stock of prints, cards and other work by local artists. Kirkbean artist Val Macadam has a very quirky distinctive style and has captured many local landscapes and creatures in her pastels. Ailsa Black is based in Carsethorn and 'studio dog' Jack makes guest appearances in her work which includes coastal and rural scenes.
Cards, Guide books and maps
Large selection of greetings cards for all occasions, plus local guidebooks and maps (including local walking routes), and a selection of books by local authors.
We don't have an online shop, but if you have a question, do get in touch. We may be able to help!